Come out as we join Super Happy Incredible Toys at their Toy Show, Art Market, and Party like no other! Comicpalooza will be hosting the Costume Contest at this fun filled event welcome to all ages. Prizes will include passes to Comicpalooza 2020 and more!
Super Happy Incredible Toys - Toy Show, Art Market, and Halloween Party
Sunday, October 13th | 11:00 am – 6:00 pm (Costume contest @ 3:00 pm, signup and prejudging will begin @ 2:00 pm)
Saint Arnold Brewing Company – The Beer Hall located at 2000 Lyons Ave, Houston, TX 77020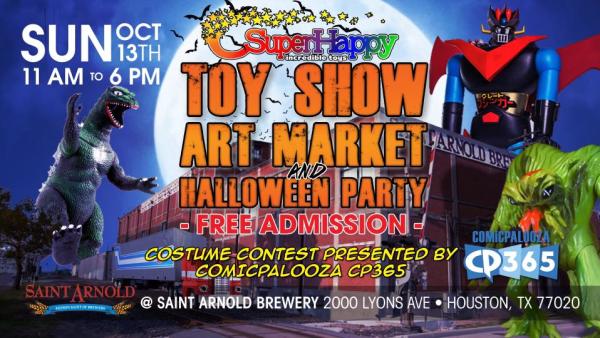 Official Rules and Guidelines:
This is a family-friendly competition.
NO profanity.
NO inappropriate costumes (swimsuit areas must be covered).
NO dangerous props or materials such as real weaponry and pyrotechnics of ANY kind that may cause damage to Comicpalooza or harm to fellow competitors, customers, vendors, volunteers, and/or staff.
Competitors shall NOT conduct themselves in a way that can be construed as harassment towards other competitors.
You MUST sign up to compete.
The contest is open to original designs and/or characters from published works; movies, TV shows, anime, comic books, graphic novels, manga, cartoons, video games, card games, roleplaying games, tabletop games, etc.
Costumes do NOT need to be entirely handmade.
*Comicpalooza reserves the right to disqualify anyone who does not adhere to the aforementioned rules and guidelines.
Judging:
A committee of 3-5 judges will decide the agreed-upon definitions of the categories available for scoring during this event.
Signup and prejudging will begin at 2 p.m.

Contestants will be issued numbers and badges during this time.

Runway and judging will begin at ~3 p.m. (promptly after signup and prejudging).

Runways will be separated and presented by age group.

The award ceremony will take place after the runway and final scoring has been resolved.

Contestants will be awarded onstage before this event has been concluded. If they are not present during the ceremony, they will be contacted and have one week to pick up their award(s) at the Saint Arnolds Brewing Company. (Awards may be forfeited beyond the one-week deadline)
Judging Information:
All judges will use scoresheets to record their results, categorically.
Contestants will be rated on a 10-point scale (1 being the lowest and 10 being the highest) in THREE categories for a total of 30 possible points per judge.
Contestants will be rated on QUALITY (10 possible points), ACCURACY (10 possible points), and EFFORT (10 possible points).
In the event of a tie, a 10-point category based on PERFORMANCE will be included in the total scoring. In this instance, 40 possible points will be scored and ranked for each respective standing (1st, 2nd, and 3rd place), independently.