Interviewed by Aeryk Pierson
We had an opportunity to sit down with Six Foot's CEO, Matt Ballesteros, and COO, Christian Svensson, to talk about the company and their latest project, Dreadnought.
First off, can you tell us a little bit about yourself and how you got into this industry?
Matt (CEO, Six Foot, LLC): I grew up in a family with a penchant for the arts and an affinity for all things entertainment. This influence kept me squarely in the theater arts, music industry, Hollywood and then naturally, into the video game world. Six Foot evolved much in the same way. We began as an interactive studio creating digital campaigns for both product/service firms and entertainment companies. It was through this combination of working on brand name products, while at the same time developing material for the entertainment industry that honed our ability to develop intellectual properties and products focused on rich user experiences, and of course, video games.
Christian (Chief Operating Officer, Six Foot, LLC): I've been in the games industry for about 24 years. Growing up I was fortunate enough to have access to game systems (Atari 2600, Nintendo Entertainment System) and early home computers and I was always fascinated by them, both from a technology and entertainment standpoint. I'd always wanted to directly make games but I never quite had the right aptitude for the art nor the patience for the engineering (though I took a lot of CS courses in college). In the early days of online services and the Internet, I ran the largest Atari fan site on the web (a byproduct of my love of games and early web tech) and I got asked to do some writing for some early Internet publications, which I later parlayed into an editorial career in games journalism for nearly a decade. I was one of two people that launched what would become IGN.com and wrote for and directed many publications and sites since. After that started getting old, I moved from publishing websites and magazines, into publishing games. I got recruited to Midway Games and eventually rose to be VP of Entertainment Publishing and then later jumped to Capcom, where I eventually became SVP of Games, running the North and South American games business.
How did Six Foot evolve into the company it is today?
Matt: Six Foot's legacy is an interesting one. Although we were operating a business, we focused a great deal on building a company that was engaging and personally fulfilling. Allowing for a natural creative and family-centric culture to prosper. All the while, we altered our direction along the way to maximize opportunities in business verticals that truly interested us. Even if that meant taking on projects here and there that were more about art and experience and a little less about commerce. Not being risk adverse, this opened up unique prospects, and we made the best of those opportunities. This of course allowed us to work on meaningful projects in a variety of industries that ultimately paved the way for Six Foot to become the full-service game company it is today. The tipping point came when an investor came to us with a vision to build quality games and experiences, to put the focus back into the player and each independent developer we engaged with. From that vision, the Grey Box brand was born. I would like to point out, however, that a fundamental element of Six Foot's metamorphosis must really be credited to its people. It is their contribution that has made Six Foot what it is today. Our unique, family-style culture has transformed the way we recruit in an incredibly positive way. I am sure most people don't consider Houston to be a hotbed of talent for the game industry… but they would be wrong. My colleagues include stellar professionals from LucasArts, Blizzard, Riot, NCSoft, CapCom, Marvel Comics, CCP, Gameforge, EA, Activision, Motiga and many, many more. Consequently, we are fortunate enough to enlist even more global talent as our projects expand.
What is the significance of the name Six Foot?
Matt: That's somewhat of a secret. OK, perhaps I'm just creating mystery over our name...maybe. But, I can share that we actually say that "Being Six Foot is not about being tall. It's about never being tall enough. It's about reaching beyond what the measure tells you; always growing; always changing; to be ever better." Plus, it's a pretty easy name to remember don't you think?
On your about page you write: "Six Foot provides comprehensive video game services to game publishers and entertainment companies worldwide." What does that mean, exactly?
Matt: Many games services companies excel at providing only a singular service---such as development, production or publishing. What makes us unique is that we actually provide all three of these services at once, and a lot more. Indeed, we are one of the only companies in the world that offers every type of game development and publishing service under one roof. Having the ability to be a one-stop-shop provides great value to the product. Read: if you need someone to handle every aspect of a video game lifecycle, from inception of the intellectual property through live game operations after launch, then you might want to talk to us.
Your headquarters are here in Houston. If we were to visit the office, what kind of things could we expect to see?
Matt: Aside from smiles and dedication in the eyes? A family of likeminded individuals---be they creative or executive. All are striving to maintain a home we are proud of and curating an environment of innovation. Some typical sights one might imagine from a video game services company, include scores of screens blaring rich content, robots from very small to rather large, groups engaged deep in conversation about game production, quality assurance personnel playtesting our games, customer service reps assisting players, animators producing new models, technology teams writing code, creatives knee deep in new designs, scores of noteladen whiteboards, and post-it notes literally everywhere.
What work is done here in Houston?
Matt: Pretty much everything I have described above. Houston also houses the executive administrative team which oversees everything from recruitment to finance to legal. All C-level personnel operate from Houston as well, and we provide the vision and the stewardship for Six Foot as a whole.
Houston isn't the only office. You have locations in Los Angeles and Berlin as well What happens in the Los Angeles and Berlin offices?
Matt: Both offices are not unlike our Houston operation, in that they functionally engage in very similar activities. We needed to be present in various geographic locations to have a better global presence and to extend our overall reach. Similarities between offices aside, our Los Angeles office does also specialize in brand stewardship and provides all marketing strategy for Six Foot itself. Berlin's primary focus, just like Houston, is to provide full publishing services, except now from deep within Europe, ensuring we are reaching all corners of that continent and beyond.
Regarding Dreadnought: Before we get into the details of the game itself, I was wondering if you could talk about Six Foot's specific contributions to the game (as opposed two other companies working with you on it, namely Yager Development and Grey Box)?
Christian: Six Foot handles the majority of services for all Grey Box projects from production,creative direction, QA, customer service, localization, IT management/security, business development and all publishing functions like sales, marketing, events, PR and community management. We directly develop some of the art, code and design of the games themselves (though we work collaboratively and lean heavily upon our partners, like Yager, to do most of that work). We've also built and operate the back-end platform upon which all of Dreadnought's game services run. Grey Box is no less important as it provides the financial resources to develop and operate Dreadnought and other titles in development.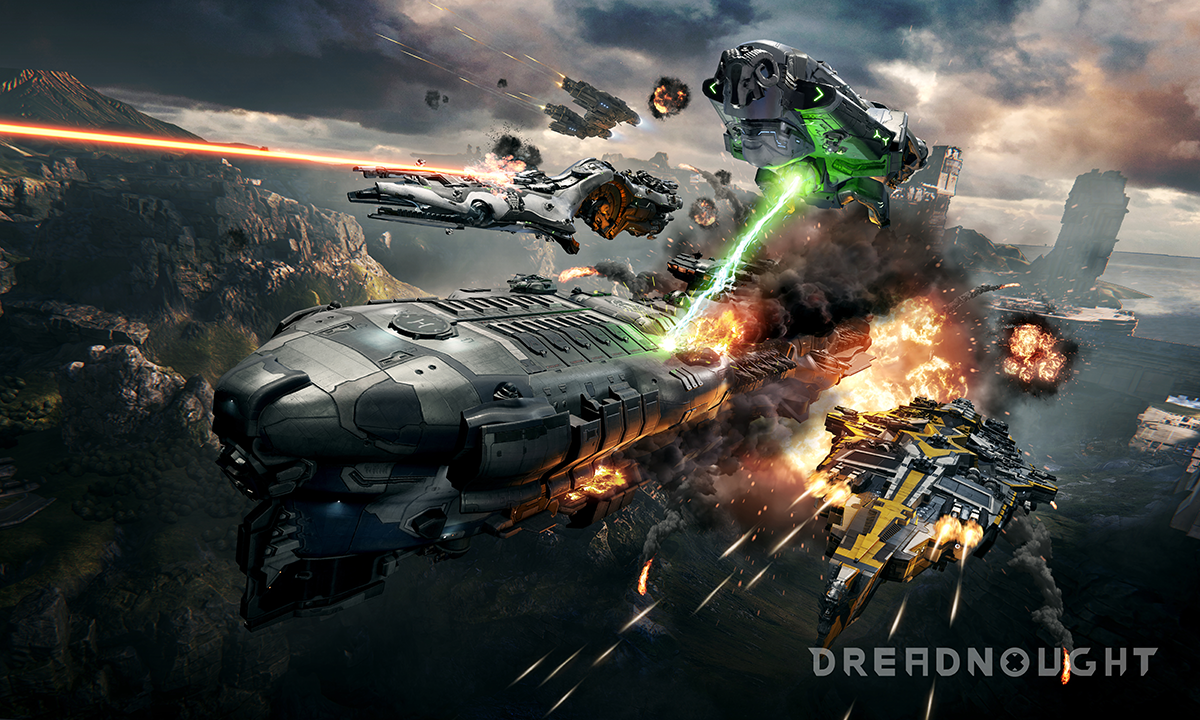 Dreadnought is a tactical game in which a player is a mercenary space ship captain looking to make a name for himself. You command one of five different classes of ships, from the heavily armored and damage dealing Dreadnoughts to fast and surgically precise Corvettes. There is a single player campaign and a multiplayer versus game. I've watched videos of the multiplayer deathmatches and they look insanely fun. I have not, however, seen anything about the single player campaign. Can you talk a bit about the single player campaign?
Christian: One of the exciting things about an online game that's has on-going live development is that we can react to player feedback, player data/analytics and requests. Dreadnought is never "done". We do still have plans for player vs. environment (PVE) content however our players have been telling us to prioritize getting the core of the game, which is multiplayer focused, working optimally. That focus on multiplayer has pushed the single player content back a bit further in our development roadmap. I would expect us to be able to talk more about the PVE modes closer to the end of the year.
On Grey Box's site there is a Closed Beta sign up. What is your relationship with Grey Box in running the closed beta? How does one participate in closed beta? What does that allow players access to? What exactly are you looking for from beta players?
Christian: Grey Box is the publishing brand and it provides the financial wherewithal to make and bring games like Dreadnought to market. There's two ways to get in to the closed beta right now, signing up and hoping you get one of the invites we send out weekly or purchasing a founder's pack which provides immediate access to the closed beta and some of the in-game goodies in terms of exclusive hero ships, premium currency, some cosmetic customization options and some gold status time (which increases experience/reputation and in-game currency gain) when the game officially launches. The closed beta right now has two different play modes (team deathmatch and team elimination) across several different maps (which will be on rotation over the course of the closed beta to keep things fresh). We will be making many changes to the game (meta structure/progression, ship balance, new features, new ships, new maps, new modes, etc.) moving forward based upon the data and feedback we've been collecting which we think will make the game even more engaging than it already is. All beta players get to choose how deeply they want to engage with us. If they'd like to post direct feedback on our community forums and interact with other players and the devs that participate there, that's great. If they want to submit bug reports from in-game, that's also great. If they want to do none of that and just enjoy the game, that's also perfectly fine. There's are no minimum or maximum obligations for anyone who wants to play with us. It doesn't take long to get all hyped about this game.
That said,what is the Dreadnought release date?
Christian: We're taking our time and getting the game right. As fun as the game is right now, we want it to be even better. My expectation is we still have several more months of closed beta testing and development to go and we'll continue to get feedback and collect data from players until they tell us we're ready. Once that happens, we'll move into an open beta phases, where anyone will be able to download and play (no random invites or purchases required). When that happens, that'll be our "soft launch" or broad release data. It will definitely be this year, but I hesitate to give any more specific timing than that lest we disappoint folks while trying to make the best possible game.
Finally, what is your favorite game and why?
Matt: Thanks for asking! I mentioned earlier that I grew up in a family who were entertainment centric. What I didn't mention yet was that the other big influence came from the military life. My Grandfather served in the Navy for 20+ years and fought in WWII, my closest uncle was in the Army and served in Vietnam, and my brother, a master gunnery sergeant, served in the Marine Corps (thank you guys!). To say I was influenced by them is an understatement. In short, I am a huge strategy fan. From SSG's Warlord series to Creative Assembly's Total War dynasty, I love a game that takes strategic contemplation to best. Obviously, that made me a huge fan of both of the Warcraft and of Command and Conquer franchises (surprise, surprise). However, if I am to choose one game overall, I would have to go with Relic's Company of Heroes. A strategy based game set in WWII? Awesome! Now… I am waiting for a game centered on the character Sgt. Rock. Maybe we will have to make it.
Christian: Wow, that's a tricky one. I'm going to cheat and give a couple answers. Favorite game I'm playing now: Wildstar (which is now on Steam and is free-to-play, go download now) on PC. I've been playing since it was in closed beta and it's got the best combat system, dungeon and raid content of any MMORPG in the market today in my opinion. Favorite game historical: Super Mario 64 on Nintendo 64. It's hard to describe what a leap this game was at the time of its release in 1996. I beat it with all 120 stars with one of my co-editors at a publication I worked at within 24 hours of it hitting our office. That experience of wonder and exploration that the game gave relative to everything that had come before it changed me.