We have shopping. Lots and lots of shopping! Comicpalooza's exhibit hall is filled with unusual and hard-to-find merchandise, from comic books and toys to handmade wares, jewelry, and original artwork.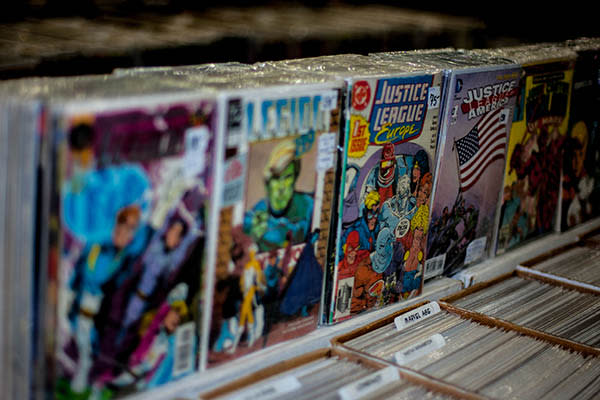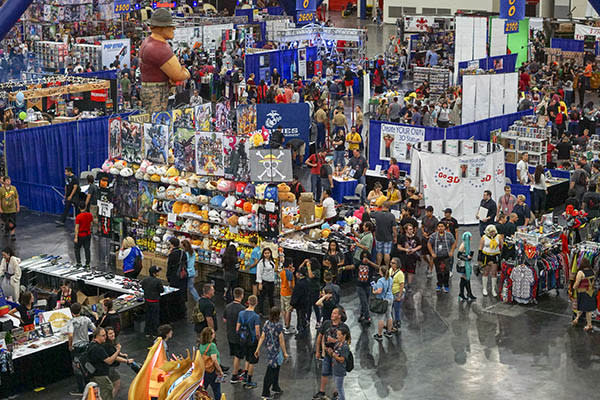 About Comicpalooza Programming and Events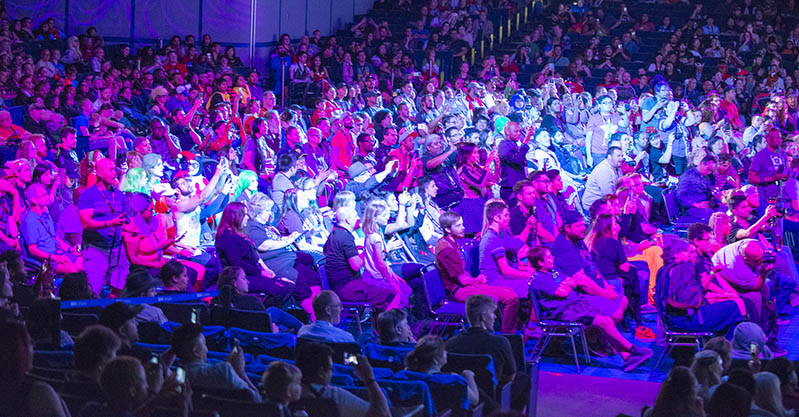 • All programming is held on the 3rd floor of the convention center.
• Entrance to the programming floor can be achieved by escalators and elevators on the 1st and 2nd floors, and across the skywalk from the Hilton.
• Each panel room has a specific size based upon expected attendee turnout. Our rooms consist of small (50 seats), medium (125+ seat) and large (250+ seat) rooms.
• Panels run an hour on average. There is a half-hour break between each panel to clear the room and ensure that room is ready for the next panel.

Seating in panel rooms is "first come, first served" with the exception of VIPs. Due to the high volume of attendees at some panels, possession of a Comicpalooza membership does not guarantee a seat. If there is a panel, workshop or Q&A you wish to see, plan ahead and arrive early.

There is limited seating in each room. Please be courteous and fill in all seats. Do not leave gaps in between seats; save seats; or put bags, purses, etc., in the seat next to you. If the panel is at capacity (standing room only), you may be asked to sit in a seat if one is open.

Comicpalooza does not clear panel rooms. It is the responsibility of the current panelists to ensure the panel is completed in a timely manner and that the room cleared afterward to make way for the next panel.

If a panel room is full, do not stay. This is for safety reasons and per the city Fire Marshal. A crowded door and hallway make a poor exit in case of an emergency. If you see that panel room is full, please do not block the doorway or hallway. Some panels occur more than once over the weekend, so if you miss the first one you may be able to attend the next.

Recordings, video footage, and pictures are at the panelists' discretion. Some panels, such as the guest Q&A and the theater room, may prohibit recordings and pictures due to contractual obligations and copyright laws. Please be mindful and respectful when going into a panel room where these rules might apply.

Celebrity Q&A. When asking questions, please be courteous to guests. We ask that you not request a hug, kiss, autograph, etc., during the Q&A. The Q&A is for all who attend to see, and timing should be observed during these sessions. Keep in mind that, due to time constraints, not everyone will be able to ask a question.

Cell phone usage. When going into a panel, please set your phone to a low volume or vibrate so you won't disturb the panel. If you must take a call, we ask that you leave the room. Remember to be courteous to those around you.

Trash. Whatever you bring in, please take it out. These rooms are used several times over the course of the weekend, and cleaning crews do not come until late in the evening. We ask that you be courteous and respectful to the other attendees and not leave your trash behind. The 3rd floor will have trash receptacles at various locations so you can deposit your trash.

Cancellations. On some rare occasions, a guest or panelist may have to cancel. These are usually situations outside of the convention's control. Keep in mind that all listed panels, workshops, events and Q&A are subject to change.

Panel etiquette. We ask that you remain seated during the panel or presentation unless requested by the panelist. Restrooms: There are several restrooms located on the front, sides, and back of the 3rd floor. The program floor maps will have these areas marked for your convenience. Comicpalooza is host to some of the greatest fans, guests, and industry leaders. We strive to bring you the guests that you love and bring programming content that caters to all genres. We know how much you love all of this, just as we love being a part of it and bringing it to you, so please keep these guidelines in mind when attending Comicpalooza this Father's Day weekend. We hope you have a great time at the show.