Nothing provides more fun than a great show. Comicpalooza's entertainment programming included live magician performances, K-pop dancers and demos, live music and so much more. If you joined us this year, you had another thrilling weekend of entertainment and delightful surprises!

After its successful debut, we had the return of the Friday Night Bash presented by NÜTRL. One step through the grand entrance and you were engulfed in a party that had you dancing all night long!
Comicpalooza has a heart for our community and a unique opportunity to engage the talents of our guests and our attendees for a good cause during our Live Art Auction. Learn more here.
KLOVR
Did you ever wonder what Kpop is? Did you ever want to try learning a Kpop dance, but don't know where to start? You could have toured our "Kpop Campus" over the weekend during any of our "class" performances, demonstrations, workshops, and/or discussions. Your "teachers" at KLOVR, a Kpop dance team in Houston, welcomed all "students" to dip their toes into the vast and exciting world of Kpop. No dance experience was required!

Texas All-Star Wrestling Matches
Texas All-Star Wrestling returned to Comicpalooza for another family-friendly, fun-filled night of your favorite wrestling action! You could have cheered for your favorite wrestlers and been present to wrap the covered Dragon belt around Comicpalooza's inaugural champ.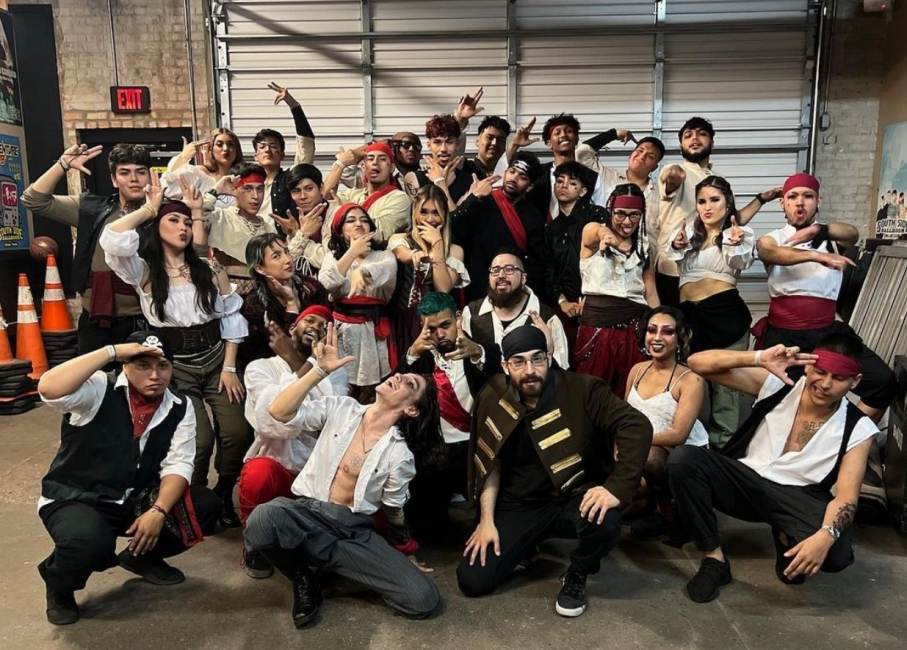 BNDT Dance Group
BDNT is a Houston-based, World of Dance-winning group and they brought their energy to Comicpalooza on the Movement stage! They dazzled the crowds with their unique brand of dance!
The Kendolls Burlesque Show

The Ken Dolls' innovative and dynamic burlesque show left fans in awe with their expertly-crafted performance that combines singing, martial arts, fire, pole, and aerial arts.
Big XODIA

BIG XODIA, one of the fastest H-town nerd rappers around! Do you have a Need for Speed? Keep up if you can with all of Xodia's references to the backrooms, Super Mario, Pokémon, Yu-Gi-Oh, and so much more!
The Classical Theatre Company

The Classical Theatre Company is dedicated to boldly re-envisioning classical drama on the stage, in the community, and in the classroom through engaging and enlightening plays that brings them new life and relevance while maintaining the integrity that the works deserve. The Classical Theatre Company is the only professional theatre company in the Houston area that produces year round classical drama.
ComedySportz

ComedySportz is an interactive and improvised comedy show that pits two teams of improvisers against each other in a hilarious battle of wits. Using audience suggestions and willing volunteers, CSz Houston professionals created short games, scenes, and songs on the spot!
Dim n Wit


Two Fairy brothers trying to make the world smile ONE HUG AT A TIME. Who are these guys? Dim N Wit, have been entertaining crowds, lines, and themselves since 2010. They have brought their unique brand of kindness and smiles to numerous events across multiple states.
Drew Heyen


Drew Heyen has been performing magic since 1985. He had a very slow beginning, performing very simple tricks for friends and family (a traditional start for magicians). His real interest developed when he began playing Gin Rummy with assorted friends on a nightly basis. Drew found that he was very comfortable with a deck of playing cards. Starting with flourishes, he quickly moved on to more complicated effects, giving an audience the impression that he could cause a deck of playing cards to respond to his every whim.
El Airiachi

You could have witnessed the best show that has never been seen, and could have stuck around because there were also prizes! Experience the air and the fury.
Inked Magic

You could have determined for yourself if it's magic, superpowers, or something else entirely as the Inked Magician shared stories about his life as a magician while bending metal like Magneto, reading minds like Xavier, and much more. Audience members also explored their own latent "superpowers" during the show.
Kommander Kibbey

The Kommander Kibbey Magic Show was a comedy magic show with a steampunk theme. Lanny Kibbey is an award-winning magician and was a house magician at the world-famous Magic Island in Houston TX for 18 years where he performed over 30,000 shows.
Phil Nichols


You could have seen a fun, silly show of clowning, juggling, magic, and a little bit of ventriloquism.
Texas Bluesmen

The band was built and molded like the original band as a "who's who" in North Texas and created with the best musicians from various backgrounds. It was GUARANTEED to keep you dancing in the aisles from the first song to the last, all while keeping the dream and legacy created by the late John Belushi & Dan Aykroyd alive and well.
You could have joined Dee.svg, a new indie singer based out of San Antonio, TX, during a unique Comicpalooza performance. She makes music of all types and genres but especially loves J-POP. She'll be performing original songs in English and Japanese. The songs performed were indie pop, acoustic, rock, and alternative.

Sassterpiece Theater Presents BATS (1999)
Where do you hide when the dark is alive?" Sassterpiece Theatre presented a feature-length MST3K-like comedy riff of BATS (1999), starring Lou Diamond Phillips. JYou could have joined us as "fear takes flight" during this LIVE performance over a subtitled screening of this cult classic!