The festivities didn't end after the sun set. In fact, the party was just getting started! Learn more about our night activities that took place during Comicpalooza 2023!

After its successful debut, we had the return of Friday Night Bash presented by NÜTRL. One step through the grand entrance and you were engulfed in a party that had you dancing all night long!
You could have cheered for your favorite wrestlers and been present to wrap the covered Dragon belt around Comicpalooza's inaugural champ.

Retro World Series was taking it back at Comicpalooza 2023. You could have sit in on tournaments or partake in open-play games. There were plenty of titles to choose from including Halo: Combat, Mario Kart 64, Def Jam, and Super Smash Bros.

All weekend long Ultimate Werewolf hosted their ever-popular social deduction game. Game-play happened over a series of rounds with each round consisting of a "day" phase and a "night" phase. The rounds continued until either the werewolf team had overtaken the village (wolves win) or, all wolves have been eliminated from the game (village wins). New and experienced players were welcome.

Live Art Auction is always an evening event where Comicpalooza artists donate time and creativity to produce unique pieces of art, not only for an evening of entertainment but to raise money for a local charity. The number of artists that participate in the Live Art Charity Auction varies from year to year as do the creative backgrounds and disciplines, including painting and drawing.

You could have cheered on participating cosplayers during the annual Comicpalooza Cosplay Contest! You could have seen incredible costumes of characters you love and maybe some that are unexpected as well.

The Ken Dolls innovative and dynamic burlesque show left fans in awe with their expertly-crafted performance that combines singing, martial arts, fire, pole, and aerial arts.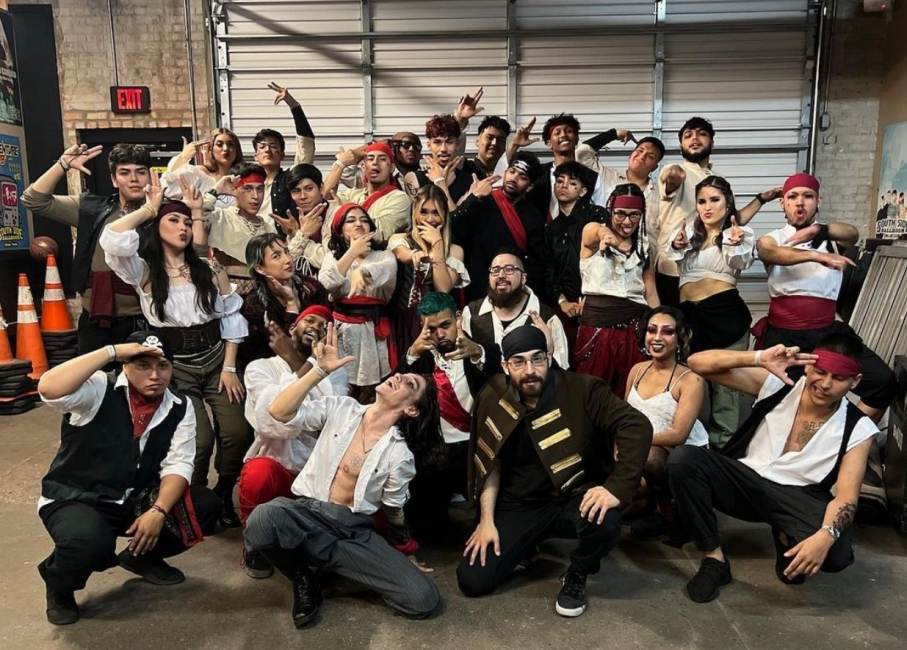 BNDT Dance Performance -Welcome to the Dark Circus
BNDT Competitive Dance team performed their previous World of Dance Dallas set "WELCOME TO THE DARK CIRCUS". You could have checked out an interactive experience with all the thrills and chills to keep you vibin'.

Sassterpiece Theater Presents BATS (1999)
Where do you hide when the dark is alive?" Sassterpiece Theatre presented a feature-length MST3K-like comedy riff of BATS (1999), starring Lou Diamond Phillips. JYou could have joined us as "fear takes flight" during this LIVE performance over a subtitled screening of this cult classic!

Inked Magic

You could have determined for yourself if it's magic, superpowers, or something else entirely as the Inked Magician shared stories about his life as a magician while bending metal like Magneto, reading minds like Xavier, and much more. Audience members also explored their own latent "superpowers" during the show.
You could have joined Dee.svg, a new indie singer based out of San Antonio, TX, during a unique Comicpalooza performance. She makes music of all types and genres but especially loves J-POP. She'll be performing original songs in English and Japanese. The songs performed were indie pop, acoustic, rock, and alternative.

Local Houston podcasters got together for a D&D campaign based on the hit Netflix show Wednesday. Four years before the arrival of Wednesday Addams to the illustrious halls of Nevermore, the former Nightshades had to help Principal Weems solve a "hair raising" mystery. With a Full Moon around the corner, what will happened during the Harvest Festival?