Exhibitors
There's no question that one of the best aspects of Comicpalooza is the vendors at the show. Each year the Exhibit Hall is filled with incredible artists, craftsman, and inventors. Merchants selling popular collectibles, wearables, toys, and more are featured throughout the aisles, some are new but many return year after year. Anchoring the floor on each end is our popular Maker's Space and Celebrity autograph and photograph areas. Comicpalooza is now accepting applications for the 2019 event to be held May 10-12. This year, we're allowing vendors to select their own booth, hurry though, the show floor is filling up fast.
Artist Alley is full. Feel free to complete the application to get on the waiting list. All applicants will be notified if additional spaces come available.
(To save the file, Right-Click and select Save As)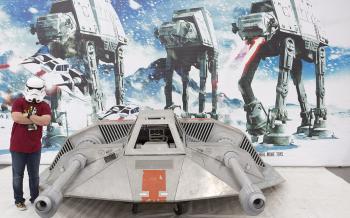 (To save the file, Right-Click and select Save As)
Sponsors
If you are a commercial business interested in a greater presence at the show, click here to learn about your sponsorship opportunities.