There's no question eager attendees are drawn to the merchants, attractions, and celebrity guests found in the exhibit hall.

Interested in purchasing a booth for the 2024 show? Fill out the Exhibitor Interest Form below and you will be notified once applications have opened to the public.
The Exhibition Floor will be open Friday, Saturday and Sunday.
Tiered pricing is available based on the location of the booth. Exhibitors have the ability to pick their own booths, based on availability, so you can find one that fits your needs.
The price you see reflected on the floor map when purchasing your booth is "all in", which means no surprise service charges.
The bigger the space you purchase, the more you save. If you reserve more than one booth, to create a bigger booth you can receive a 10% discount by using promo code BIGBOOTH.
Once you purchase a booth, you can create a dynamic profile for attendees to see before the show.
Booth Category Descriptions
All booths must authentically integrate within the event by utilizing compelling displays & engaging staff. Goods sold in Artist Alley & the Dealer's Room should draw from pop-culture influences, anime, comic books, film, gaming, literature & television covering a wide range of genres including action/adventure, fantasy, horror & sci-fi.
Artist Alley: A designated area for artists and craftsmen to vend their own handmade products such as leatherworking, comic books, novels, art, sculptures, dolls, jewelry and more.
Dealer's Room: For resellers of commercial products, including comic books, board games, collectibles, toys, video games and wearables. You can also sell handmade goods if you choose or if the Artist Alley is full.
Commercial Exhibitors: For businesses that sell services and/or products that do not fit within the traditional pop-culture classification. Examples for the types of businesses that commercial exhibitors could include are insurance, mobile carriers, energy, banking, construction, etc. There are a limited number of commercial exhibitor booths available to keep our show as authentic as possible. All commercial exhibitors must create authentic activations that integrate within the show floor.
Special Attractions: For unique pop culture displays, themed vehicles, or entertainment that enhance the exhibit floor.
Fan Groups: For fan clubs, groups, societies, associations, organizations, clubs, guilds, and leagues that cultivate liberal arts or celebrate popular cultural icons that want a way to share their message or increase their membership. There are a limited number available.
Community Outreach: For groups that want a way to share their message about their philanthropic organization and increase awareness. There are a limited number available.

*If you're interested in seeing the 2023 floor map and exhibitor list, view our shopping page here
What is the difference between an Artist Alley booth and a Dealer's Room booth?
Artist Alley is for people who are selling original products they create. Dealer's Room booths are for those who are reselling goods, such as board games, comic books, clothing, etc., typically mass produced by others.
Who do I contact for questions about purchasing a booth in the Exhibit Hall?
Please contact exhibitors@comicpalooza.com with any questions regarding a booth purchase and include the subject line ATTN: Purchasing a Booth.
How do I request to be a vendor or have an artist table?
Complete the application on this page. If the application is not available and you are a new vendor, please complete the Exhibitor Interest form and we will contact you when applications for next year's event are available.
Are there booth locations or exhibitor options beyond the Artist Alley and Dealer's Room?
Not for general exhibitors or artists.
Is there a different price for booths that are not selling any products?
With the exception of approved Commercial Exhibitors, Fan Groups, and Community Outreach/Philanthropic Organizations, booths not selling product do not have a different price. Please purchase a booth in the area you feel is most appropriate for your booth.
Do I need to register as a guest to get a booth in Artist Alley?
No. You do need to complete an Artist Alley application.
Do you offer discounts or early registration for exhibitors who have attended Comicpalooza previously?
We do not offer discounts for previous vendors but we do our best to notify those in good standing with the organization about early registration opportunities.
Do you provide complimentary Artist Alley tables?
We do not offer complimentary Artist Alley tables.
Can we exchange product or advertising for booth space?
What items are not permitted to sell at the show?
Food and beverage items, weapons of any kind, including live steel, guns (of any kind, including pellet guns) knives, metal swords, and blunted weapons. If you are unsure if something is allowed, please feel free to email exhibitors@comicpalooza.com for clarification.

What are the booth configuration options for the Exhibit Hall?
Booths are available as 10' x 10' spaces and 10' x 20' endcaps. You can purchase more than one booth in an area to create a larger footprint.
May I hand out fliers at my booth?
Yes, as long as you are legally allowed to hand out the fliers and the information on them pertains to your business.
Do I need a Texas Sales Tax ID number?
Yes, otherwise you are violating Texas law.
When do you need my Texas Sales Tax ID number?
We require it when you complete the application.
I am having difficulty with purchasing a booth. Who do I contact for assistance?
Please contact exhibitors@comicpalooza.com and include the issue as well as the booth # you are interested in purchasing in the body of the email. Use the subject line ATTN: Booth Purchase Help.
How do I verify that my booth purchase was successful?
You will receive an email confirmation. Check your Junk and/or Spam folders.
Do you have a waiting list once Artist Alley and/or the Dealer's Room have sold out?
Yes, if the Exhibit Floor is still open you can complete an application for either but you will not be able to purchase. If additional booths become available before the show, approved applicants will be notified. Once Exhibit Floor sales are closed a sign up form will be made available for next year's event.
How can I change my booth location once I've already chosen a booth and purchased?
How do I correct information for my booth (wrong credit card, wrong address, etc.)?
My information is listed incorrectly on the website and/or app. How do I get it corrected?
You have the ability to update your information in your profile.
How do I purchase additional badges? And how much are they?
Once available, a link will be provided to Exhibitors for purchasing additional passes in advance of the show at a reduced price. Passes can only be purchased for booth staff. Additional Exhibitor badges may also be purchased during the event at a higher price point.
What are the day and times of booth load in and load out?
Exhibitor hours coming soon.
How do I cancel my booth? Do I get a refund?
We do not offer refunds on booths but if you will no longer be able to attend, you can cancel your booth by emailing exhibitors@comicpalooza.com with the subject line ATTN: Booth Cancellation.
Return to top
Sponsors
If you are a business interested in having a larger brand presence with the event, click here to learn about your sponsorship opportunities.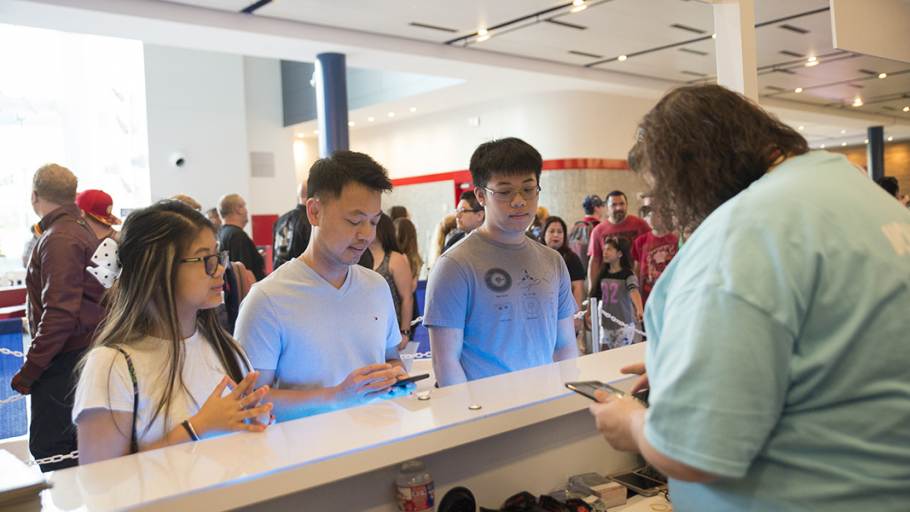 Stay up-to-date with the latest event information, new guest announcements, and more!