Families had plenty to choose from at Comicpalooza. Attendees joined us during our inaugural Friday Night Bash including a dance party, Texas All Star Wrestling Matches, and more. At Kidtopia, children participated on geeky-fun programming and activities including Dungeons and Dragons sessions and trivia contests, plus aspiring cosplayers partook in the Kids Cosplay Contest. Special attractions around the exhibition floor like Battlefield Houston and Mech Corps provided thrilling obstacles, while the Itasha Showdown brought the oohs and ahhs with their themed cars, and Full Steel Combat had the whole family cheering! But that's not all, with plenty of exhibitors that offered family-friendly art and handmade goods, panels that covered enticing pop-culture topics, and guest that brought joy to all fans!
Little Libraries were also available for kids to find new graphic novels and mangas or share their favorite series with others!
NO KIDS WITHOUT AN ADULT - NO ADULTS WITHOUT A KID

A cross between paintball, airsoft, and traditional laser tag with all of the options of a video game, Battlefield Houston is a memorable and exhilarating game you have to check out!
Robotica: A Robotics Experience
Fans cheered alongside teams from all over the world as they entered their destructive creations—from buzzing behemoths to diminutive droids—in the ultimate battle bots tournament where no two robots made it out in one piece.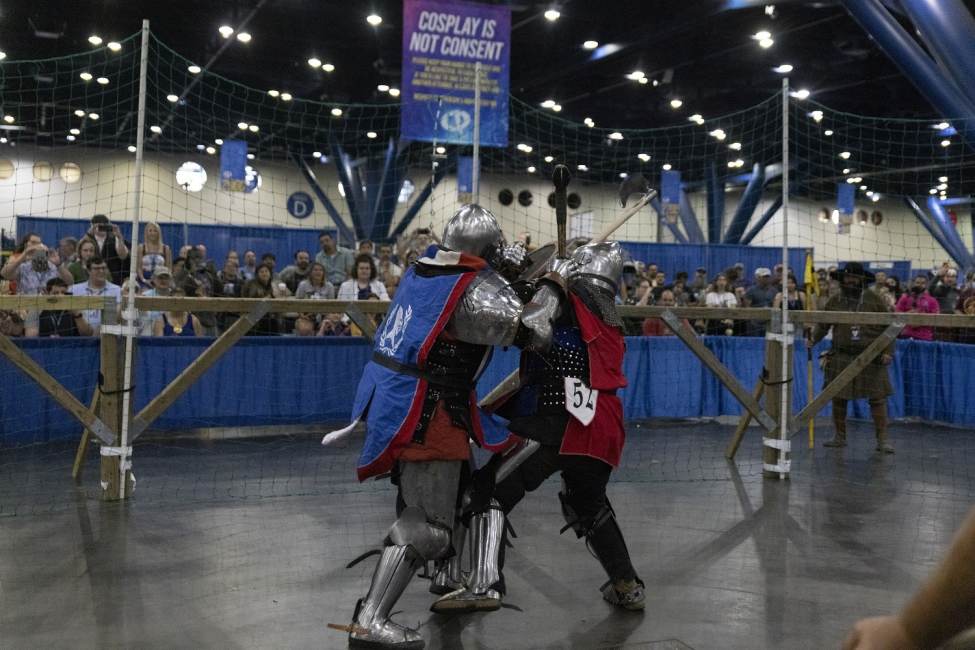 Full Steel Combat
Knights are a part of the fantasy psyche as much as dragons and tyrant kings. Have you ever wanted to watch knights participate in melee combat, to hear the ringing of steel and the clashing of swords? You could watch Full Steel Combat all weekend and root for your favorite knights!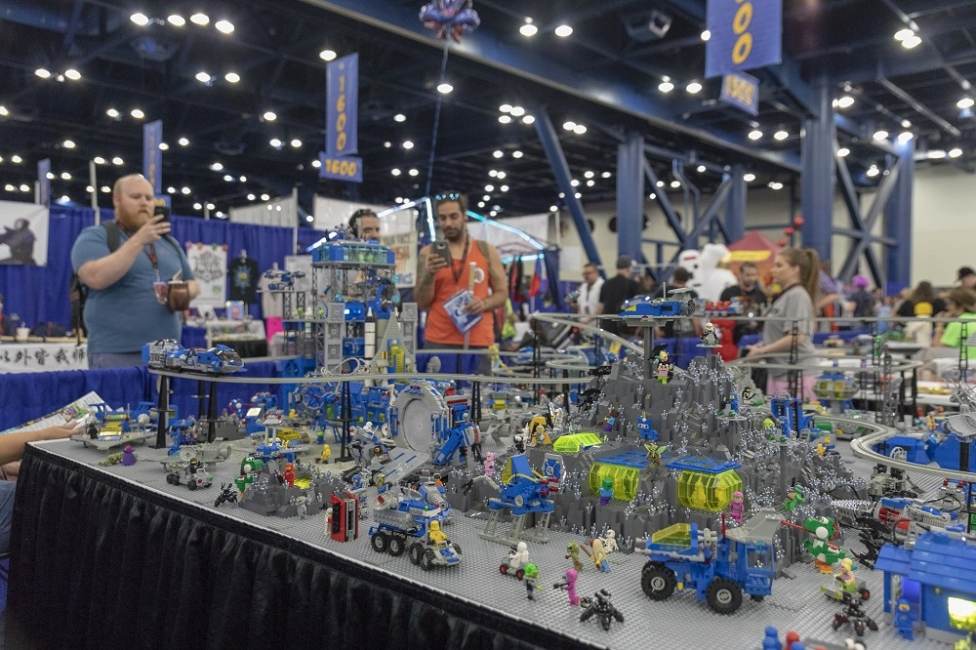 LEGO - Houston Brick Club
Kids could check out custom LEGO creations from local builders centering on Star Wars, Comic, Pop Culture, and Fantasy-related themes. Each creation was on a custom display for Comicpalooza attendees to enjoy and photograph. Also, a magnificent mosaic was built and displayed onsite by and for the community.
MechCorps
Ever wanted to drive a giant robot armed to the teeth with lasers, cannons, and missiles to own the battlefield? Mech Corps let you fight one on one, free for all, or against the computer in these pods created uniquely for this game.
Competitive and casual games of cornhole were available throughout the weekend. Free lessons were provided at the cornhole booth in the Exhibition Hall. You could join the two-day tournament or free-play. Mini boards were onsite - kids and families were welcome.
The Collection
A mysterious collector was at Comicpalooza to show off their impressive wares for attendees to inspect and take photos of.
RC Car Expo

The RC Car Expo was a 1:28 MiniZ Racing & 1:10 Drift Car Experience that excited and intrigued the nerd, geek, or weeb in you. Learn more here.

Houston Public Library Planetarium

Go on a journey through space without leaving the city! Participants learned about the wonders of the night sky in HPL's inflatable planetarium dome. The exhibit also included information about the library and a table activity.